Willie Hale
Ronald Colman
Lord Leland
Frederic Kerr
Dorothy
Loretta Young
Susan Hale
Florence Britton
Mary
Myrna Loy
George
Released by Sam Goldwyn Studios | Directed by George Fitzmaurice
Run time: 72 minutes

Proof That It's a Pre-Code Film
"Does [the bed for sale] come with the owner or without?" Willie eventually sells his old bed to a beautiful girl, sighing "I always did want you to sleep in it!"
Myrna Loy emerges from a steam bath and the movie lingers long enough to make you think you're going to finish seeing her get out.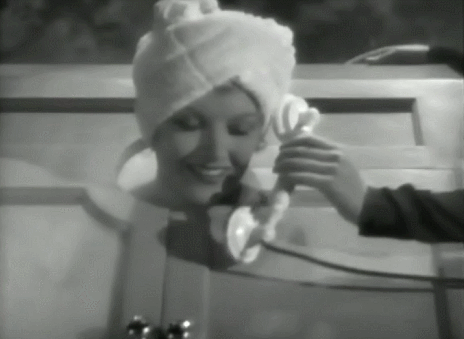 The Devil to Pay!: Shipping and A Bit of Handling
"I adore merry-go-rounds."

"So do I. I've been on one my whole life."
I had the wrong attitude going into this one, and I was almost instantly sorry for it. Just last month I'd watched a comedy with a snappy title about a lovable rogue who romanced Loretta Young from her rich fiancee with promises of a joyous vagabond life in their future. That was 1931's I Like Your Nerve. This one, sharing several traits, is still much, much better.
First, this film has Ronald Colman. His mellifluous voice crackles as he dashes around London. His Willie is the bad sheep of his family, but he's so darn lovable that even his father has to admit, in spite of 10 failed business ventures, his kid has charm to spare. (Dad: "You've been nothing but trouble since the day you were born!" Colman: "Well now, as an intelligent man, I'm wondering if you didn't anticipate that possibility.")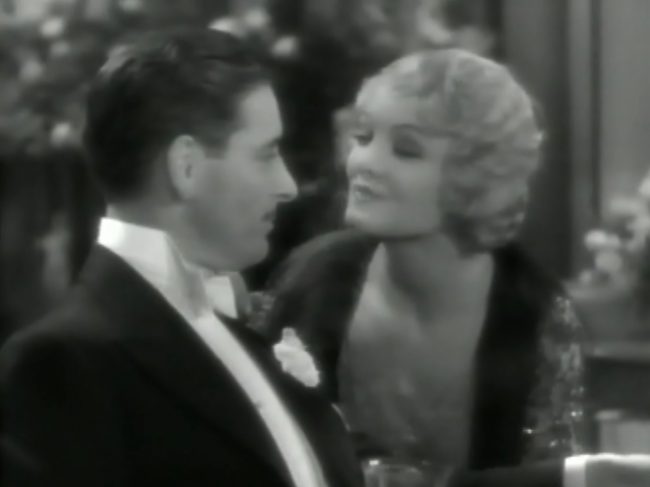 Back in town from his latest failure in Kenya, he quickly hooks up with his old flame Mary (Myrna Loy, looking sumptuous with a blonde hairdo). He also acquires a dog named George after having a long conversation with the pup– he's adorable, after all. (This actually applies to both people in the equation.)
After getting back in his father's good graces, he meets his sister's best friend, Dorothy (Young), a naive young girl who's going along with the societal obligations of her life. Once she sees how Willie's freewheeling lifestyle is an awful lot of fun, she pounces and the two get engaged. The hitch: she's heard about Willie and Mary and wants him to promise to never see her again. He wants to at least say goodbye; there's the rub.
The movie itself is extremely natural, very laid back and wholly playful. It's hard to imagine Colman's character has ever had a speck of dirt under his fingernails in his life, and his carefree life is one wholly without real danger. The climactic showdown comes down to Willie just being too nice of a guy; I hate when that happens.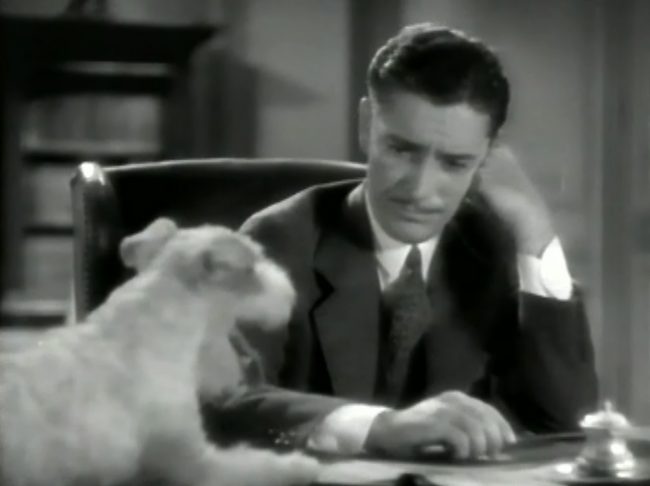 That being said, the film is a wholly pleasant, jovial affair, filled with heart and wit. ("Love you? I've been squinting since the day I met you!") There's no hint to any of the audio difficulties plaguing a number of films from this year, and the movie is very lively, often switching from indoors and outdoors with ease. These do not sound like great accomplishments unless you watch a lot of 1930 movies, so just trust me on this.
Producer Sam Goldwyn was just starting on a long road of profitability with Colman as charming rogues after his success earlier in 1930 with Raffles. The confidence in the production values show through, and the cast is perfectly game to play, which is a relief considering how often these upper crust Brit comedies turn out to be all crust and no comedy. Myrna is a treat, and Ronald Colman is just kind of fun to watch. He's pretty handsome to boot. And that dog!
Gallery
Click to enlarge. All of my images are taken by me– please feel free to reuse with credit!
Trivia & Links
Ronald Colman and Myrna Loy would later appear together in another Goldwyn production, Arrowsmith. Colman and Loretta Young would make a few appearances together in Clive of India (1935) and the fantastic (and underseen) Bulldog Drummond Strikes Back (1934).
Early talkies about the upper classes—especially the British aristocracy—often ring false, with stilted dialogue, awkward accents, and unconvincing relationships. In The Devil to Pay, the familial bonds feel, well, familiar: sweetly critical and teasingly affectionate. The cast carries a lightweight plot off with breezy chemistry. 17-year-old Loretta Young, already a screen veteran, makes Dorothy, a character that could've been a living prop, into a delightfully strong-willed woman who's not afraid to stand up to her father, her fiancé, or the man she loves.
TCMDB talks about Loretta Young's early marriage to Grant Withers a bit, but then goes into the unusual circumstance in how this screenplay came about:
The Devil to Pay was written as an original script by the popular British playwright Frederick Lonsdale (1881-1954), who had experienced considerable Transatlantic crossover success with plays such as The Last of Mrs. Cheyney (1925) and On Approval (1927), both of which were adapted more than once for the screen. Variety reported that Lonsdale derived the script for The Devil to Pay (initially entitled "The Prodigal") from his short story "Monarch of the Field."
According to a December 1930 article in the New York Times, Samuel Goldwyn offered the popular British playwright an opportunity to write an original screenplay. Lonsdale at first insisted that the play be produced on the stage first so he could earn royalties from that in addition to his fees as a playwright. Most unusually, Goldwyn then offered him payment on a royalty basis just for the screen version.
Awards, Accolades & Availability
This film is an obscure one. But, as Nora put it, "let's just say it's around online."
More Pre-Code to Explore