Proof That It's Pre-Code
Our hero and heroine get adjoining hotel rooms, and then use the door that connects them for romantic trysts.
On love: "Just because you're hungry, you don't have to buy a restaurant, do ya?"
Jill obliges our peepers early on by stripping down while having an argument:
Central Airport: And Brother Makes Three
"Gee you're swell."
"SMELL?!"
"Swell!"
"What?!"
"Never mind!"
We all have something that we love. It's usually intangible– the love of creating, the love of a good thrill, or even the love of love. There's something that every time we do it, it just makes us feel alive in the most pure sense of the term.
Jim Blaine's got a passion like that, and it comes from airplanes. He's one of the best fliers in the world until crashing a commercial liner in the middle of a terrible storm sinks his career. But even after that harrowing ordeal, he can't help but get a rush from the dizzying freedom of flight. I mean, come on. Look at how this guy reacts to a plane flying by: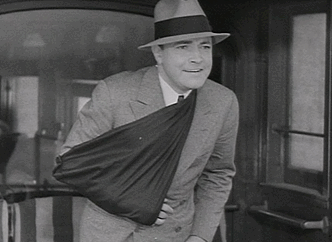 But now Jim has to make a living outside of commercial aviation. It's painful for him to see his younger brother, Neil, prepared to embark on his own flying career right when Jim's is at the the bottom of the pit. But fate, and yet another exploding airplane, will intervene.
The fateful moment comes when he decides to attend a sky circus and catches a practice jump by Jill, a beautiful and vivacious parachutist. After he helps her get out of the tree and into his car, the two watch in horror as her brother, at the helm of the biplane, spins out of control and crashes.
So Jim leaves the bank he'd meekly taken residence in and teams up with Jill. Their romance is rocky at first, but once she sees him fly things change quickly. There's one beautiful moment in the film, with Jim circling her in the sky as she parachutes down to earth. It's a very lovely, breezy form of foreplay and all we need to know about their romance– save for a shot of them embracing as a hotel room door slowly closes. That indicates that we can be voyeurs in 1930s cinema, but our imagination still has to do some of the work.
This cozy arrangement seems alright for the two of them until one evening Jim grabs a newspaper and picks the wrong night to pontificate. A friend of his has died in a crash, leaving his family behind with no support. "A fellow who flies for a living has no business getting married." Since there are at least four crashes in this film, I don't think the audience has any room to argue.
Bad luck, Jim. Jill has taken the ring off a cigar and placed it delicately upon her own. She wants to take the next step. At the hotel that evening, when he tries to open the door separating their two rooms, he finds it locked. When he wakes up next to an empty spot in bed the next morning, he realizes how grave of a mistake he's made.
More bad luck, though. Through the machinations of fate, a handsome young man with a goofy mustache has taken a fancy with Jill.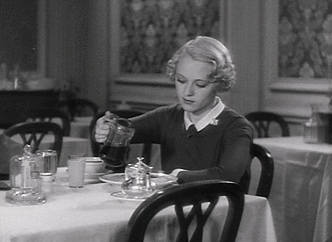 Yes, it's Neil, Jim's brother. Before you can spit out the phrase 'love triangle', Jim is involved in an accident at the carnival involving ramming a runaway plane and is out of commission for a month. Neil will take his place in the carnival and– too bad for Jim– in Jill's arms as well.
Jim discovers the switch when he enters their hotel room and finds them in bed together. Worse, in the month he hasn't been able to talk to Jill, she's married his brother. Jim loses control, smacks his brother a good one, and staggers away with grief.
We pick up his story a few years later in Havana, back when it was still considered a capital of romance and a crown jewel in American influence. Neil's become a commercial pilot much in the same vein as his brother, and Jill has become a housewife. They keep hearing bits and pieces about what's become of Jim– fighting a revolution in Bolivia, leading a squadron in China– and it's obvious that Neil doesn't care to hear his brother's name again. Jill, on the other hand, remains secretively curious.
And her curiosity is satiated! By chance, while Neil is out flying a plane to Texas, she and Jim are placed into adjoining hotel rooms, just like the good old days. They catch each other whistling an old song, and before long they're on the dance floor reminiscing about better times. Jim's adventures around the world have left him with an injured foot and a missing eye– a not too subtle clue that he's quite literally been falling apart without Jill around.
But their romantic reunion falls apart before it has a chance to be consummated as Neil's plane has gone down in a sudden storm, and Jim may be the only person who can rescue him. If he does, though, who's going to end up in Jill's bed at the end of the day?
One of the anecdotes about Frank Capra is that he would often go through his scripts during filming and cut out all extraneous dialogue. Writers write what they have to put in to get things across, but skilled directors can use the camera rather than words. This film's director, William Wellman, is one of those talented ones who can have the simple act of Jim reaching for an empty spot or see his brother and lover in bed together and make them feel like gut punches.
Wellman is one of the more dynamic directors of the era, using camera movements and subtle moments of silence and contemplation to push things along. Barthelmess doesn't show up until five minutes into the movie and doesn't even speak until about ten minutes in, but thanks to Wellman's use of the actor and the pain he's enduring, we already know so much about Jim by then.
Actor Richard Barthelmess always reminds me a bit of Joe Pesci, sans the accent and schtick. You can see something is always gnawing away at him on the inside, and he makes those rare moments of joy in Jim's life feel intense and real. He's not a volcano of rage but of pain, someone whose broad shoulders and steely expression is the epitome of the Depression man, hunkering down and taking all of life's licks one minute at a time. He and Wellman also teamed up later for one of the true pre-Code classics, Heroes for Sale, which also involved betrayal of trust and the downward spiral of a man's life against the unrelenting forces of fate.
A couple of people have complained about Tom Brown in Central Airport, but funny enough it's not his performance that draws complaints but the way he looks. No matter how many bad mustaches they paste onto the poor bastard, he never looks older than 16. I'm not convinced the actor had hit the point where he could grow real facial hair– a problem Dick Powell would share later in life.
But, then, I also think this works in the film's advantage. Neil always looks like a kid playing grown up, someone who doesn't understand or appreciate the world and the romance he's been thrust into. His naivete, even after his own liner goes down, does a good job in illustrating the difference between the two brothers– Tom as Neil is a man who has had everything go his way out of blind luck while his brother is a man who keeps losing everything he's ever loved.
Sally Eilers does a great job playing a woman whose heart is never in the right place at the right time. The mostly off-screen courtship between Jill an Neil lacks a certain oomph, and I think the reason is obvious. Unlike her healthy affair with Jim, Neil's eagerness and youth do more to remind her of her own brother who she loses early in the picture than of a genuine partner. What Jill wants is security away from the death and destruction of the air, and that's what puts the wedge between her and Jim. Because, if you can't tell from just that .gif up top, Jim could never give up flying. Never.
The special effects in the film are quite spectacular. We get more than our fair share of crashes and stunts that look harrowing. One sequence, with the runaway plane at the carnival, is so tightly edited and shot as well as daring, it could hardly be improved upon nowadays.
Central Airport is kind of a forgotten gem. Another well made Wellman film with sex, death, and spectacle, as well as a genuine pathos that takes an old love triangle plot and makes it fresh and poignant. That's because the triangle isn't just about Tom, Neil, and Jill, but about that big beautiful sky up there. How it can make everything else seem so small in comparison, but also about how empty it can be.
Gallery
Here are some extra screenshots I took. Click on any picture to enlarge!
Trivia & Links
Despite its Warner Archive release and belonging to Wellman's preeminent filmography, Central Airport isn't well known. I'd blame the film's baffling title and the relative obscurity of Richard Barthelmess more than anything.
TCMDB talks about Wellman's aviation background (he directed Best Picture winner Wings if you didn't know) and this film's depiction of early aviation. Apparently a scene cut from Central Airport is an actual depiction of the crash that Jim has that causes him to lose his job in the first reel. Wellman had been asked to remove it by the LA Chamber of Commerce since they thought it could be detrimental to commercial aviation. One must wonder how much worse it was compared to the sea crash later in the picture for it to spook the city so much…
One scene has Jim enter a hotel late at night to find its employees playing craps behind the reception desk. For people who watch 1930s cinema, the interesting thing about this is that there's both a white man and a black man participating. Considering how often craps is simply shown as a black man's game, this is a weird (and rare) moment of racial harmony.
The film was originally titled Grand Central Airport, which makes a hair's more sense than Central Airport, since the Grand Central Airport is the actual location of the film's opening. A hair's more sense.
Judy at Movie Classics gives her rundown and draws parallels to a number of Wellman's other films. She also points out that this film's screenwriters were coming off a vastly different kind of success– the screenplay for 42nd Street.
Primary Sources
Thanks to Lantern, there are hundreds of issues of fan magazine and industry journals from the pre-Code era available for free. Here are some related articles; click on the 'View Full Sized Image' in the bottom right to view!
Awards, Accolades & Availability