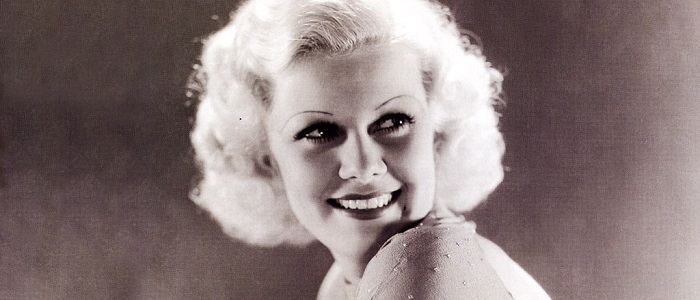 Few stars burned as brightly for as short a time as Harlean Carpenter, AKA Jean Harlow. Raised by a failed actress who wanted her daughter to have a better shot, Harlow began working in pictures in 1928 as an extra and by 1930 became a named star for her sexy role in Howard Hughes' Hell's Angels. People across the country dyed their hair blonde to match her famous locks, and her roles capitalized on an image of a wiseacre floozy (usually) with a heart of gold (sometimes).
It was a rough start, with roles in pictures like Iron Man and Goldie demonstrating that, while she had the look, she was still pretty shaky in the acting department. She studied intently and her hard work paid off when MGM signed her to a long term contract in 1932, and producer Paul Bern advocated putting her in Red-Headed Woman, which set about turning her from a star to a legend.
The smash success of that movie and its follow-up, Red Dust, packaged Harlow into the sexiest (and often funniest) woman of the screen. Her movies became touchstones in the early censorship battles– Harlow was famous for shunning undergarments, for starters– and when her reputation ran into the Production Code enforcement in 1934, the results weren't pretty. Movies like Hold Your Man and Girl from Missouri are shadows of their former selves, and MGM would spend a great deal of time and money changing the Harlow of Red Dust into the spunky pal of Wife vs Secretary and dizzy fiance of Libeled Lady.
Harlow's personal life was crazy as well. She married Paul Bern in 1932, with the union only lasting a few months before Bern was discovered one morning murdered. Harlow was cleared of the crime, and a steady suppression of evidence and a faked suicide note worked to keep the public on her side. Bern was her second marriage; a third would last only a few months. Harlow eventually met and fell hard for William Powell, but Harlow suddenly passed away in 1937 from uremic poisoning.
Harlow was one of the most popular stars of the 1930s and inspired legions of imitators and fans, including Marilyn Monroe. Harlow's brief career defined sex for the sound era and continues to reverberate.
Jean Harlow's Pre-Code Filmography
Studios
Biography
Harlow in Hollywood:
The Blonde Bombshell in the Glamour Capital, 1928 – 1937
by Darrell Rooney
Jean Harlow Sites and Links

Other Actresses