Welcome to April, everyone! For those of you actually following along to things happening on this blog, I hope you enjoyed the first month of twice weekly reviews in many, many years. It was kind of fun to do, and I'll try and keep it up (but no promises!).
There are a lot of interesting things happening, so I just wanted to chat about some of them because, just as a useful reminder, this is my blog and I can do what I want here. (As ill-advised as that may sometimes be.)
Going to the Movies
In mid-March, I finally got my second dose of the Pfizer vaccine. My last vacation was in December of 2019 and my last trek down to Los Angeles was a month after that. I'd planned on three different vacations in April 2020, including TCMFF, but we all know how that turned out. For the last year I've stayed on the base I live on, driving no further away than an hour.
With the vaccine and a fully-vaccinated wife, I finally made the trip to LA for the first time in ages. We drove down Hollywood Boulevard, saw the Chinese Theater and even stopped briefly at the Roosevelt Hotel.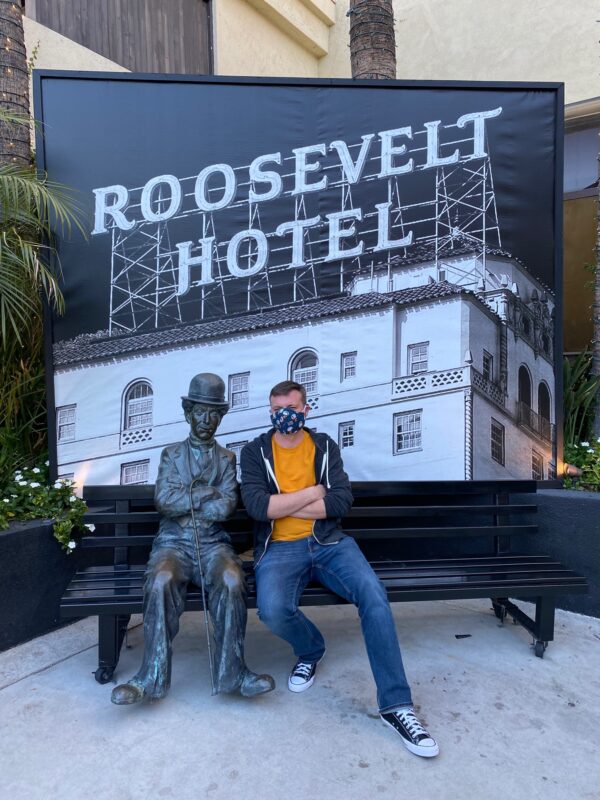 The main event was to see Retroformat's drive-in presentation of Steamboat Bill Jr. at the Legion Theater. And it was so cool, including a projection booth built on top of a shipping container and constructed from plexiglass, plus socially distanced parking spaces and concession drop-off. It was an extremely impressive operation. I also saw a lot of friends there and it was honestly a thrill to be out and doing something. As scary as it was.
I won't say that things don't still feel pretty bleak all things considered, but it was nice to get this opportunity to watch a film somewhere other than in my living room.
The State of Classic Film
Speaking of bleak, it's probably time for me to write something about how bad streaming classic films has gotten over the last year. Let's run it down:
HBOMax, when launched, promised a whole slew of programming from TCM; instead it's the usual suspects (Casablanca, GWTW) plus a hundred-or-so movies from Janus and the Criterion Collection. I subscribed for a couple of months, and while it was nice to have Singin' in the Rain always a click away, unless the planned connection between HBOMax and the 2021 virtual TCMFF is a big hit, it seems unlikely to improve.
Peacock, which is owned by Universal which means it has all of the Universal and Paramount pre-Code films, started out with a solid slate of Hitchcock and Marx Brothers movies. But those have mostly been rotated out, and only rarely do you get some one-off classic popping up on the platform.
Netflix is just a nightmare platform for classic film, celebrating things like Blockbuster Video and churning out garbage like Mank as if to cloak themselves in some kind of Hollywood respectability, but doing absolutely nothing beyond that.
Disney+ is, somehow, pretty good about its back catalog releases. (The Cult of the Mouse does have its benefits on occasion.) You can find plenty of older stuff on their platform, unless, of course, its part of its 20th Century Fox holdings; hopefully Disney will find another outlet for that massive treasure trove soon.
Prime Video actually has a wide selection of classic films on their platform, though good fucking luck finding them. The presentations themselves are also a vast mixed bag; I've watched VHS rips on the platform for Christ's sake. One of those cases where something is better than nothing.
Hulu has some stuff I guess? I don't know, honestly. By the same token, I'm not sure what's even on Apple TV Plus or whatever that is.
Out of all of these, The Criterion Channel is undeniably the best, including supplements and a rotating cast of films including plenty of obscure titles. This is my primary platform for introducing my daughter to the works of Harold Lloyd.
Most of these services, all owned by major studios save Criterion, have shrugged off requests for more pre-1980s media, claiming relatively few streams compared to new and 'water-cooler-worthy' content. (Which is must also be noted, costs millions of dollars to produce and promote.)
These same studios, led aggressively by Warner Bros., have also sought to hasten the death of physical media, believing that it's more cost effective to sell recurring subscriptions than DVDs. Even though no such proclamation has been made, it's likely that Warner Archive's days are numbered as blu-rays become a much more niche market reliant on smaller distributors like Kino and Olive to remaster and preserve film history.
I couldn't help but note that in the recent New Yorker profile of HGTV, the fourth rated cable network, the executives are all losing their mind about the slow erosion of cable subscriptions. I've publicly (and noisily) complained about how Turner Classic Movies remains strictly for those paying for the cable subscriptions. From what I've learned, licenses and cable agreements prevent them from streaming their own line-up, which seems to fossilize the network's abilities to expand. I love TCM (especially when they do things like their 'Reframed Classics' line-up this last month), but the base for cable is shrinking. I mean, why would anyone in their right minds go back?
This all means the barriers to accessing classic film grow every day. While there are great sites made by a lot of scrappy people doing their best to keep old movies accessible (like The Film Detective, rarefilmm, and people uploading as much as they can to Ok.ru and YouTube), many of these are of dubious legality or constrained by the major studios who don't want to share their product, even if they're not using it.
As with everything involving old stuff, the situation again proves just how awful copyright laws are in the United States. Will this ever change? No, no it won't. Can I still complain about it constantly? Yes, yes I can.
Things are bad and only getting worse. So support classic films where you can– give money to the people still making it available, and spread your love of it. That's what keeps it alive.
Anyway, here's the only good news I've got: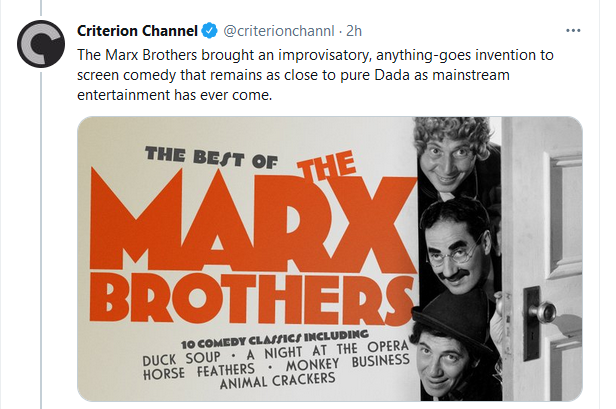 Yayyy.
Links
Here's some links to round out the post. As always, feel free to follow me on Letterboxd; I've recently been watching the more obscure films of Susan Hayward and it has been a deeply unpleasant experience, so there's that.
If you want to support my site– helping pay for server costs and the like– you can become a Patron over at Patreon. Thank you, and have a good month!
Pre-Code Movies on TCM in April 2021
All times listed here are Eastern Standard. This schedule is subject to change.
Plot descriptions and casts lists below come from TCM. See the full listings for the month here.
Date & Time
Film

2nd
5:15 AM

Eugene O'Neill's classic about a romantic prostitute trying to run away from her past.

Dir:  Clarence Brown Cast:  Greta Garbo , Charles Bickford , George F. Marion .

BW- 89 mins, CC,

5th
6:00 AM

Eskimo (1933)

An Eskimo family fights to survive harsh conditions in the frozen North.

Dir:  W. S. Van Dyke Cast:  Mala , Lotus , Joseph Sauers .

BW- 114 mins, CC,

5th
6:15 PM

An American serving in World War I falls for a spirited nurse.

Dir:  Frank Borzage Cast:  Helen Hayes , Gary Cooper , Adolphe Menjou .

BW- 89 mins, CC,

6th
4:15 AM

A dance-band leader finds love and success in Brazil.

Dir:  Thornton Freeland Cast:  Dolores Del Rio , Gene Raymond , Raul Roulien .

BW- 89 mins, CC,

6th
2:00 PM

The definitive backstage musical, complete with the dazzling newcomer who goes on for the injured star.

Dir:  Lloyd Bacon Cast:  Warner Baxter , Bebe Daniels , George Brent .

BW- 89 mins, CC,

7th
10:15 PM

Guests at a posh Berlin hotel struggle through scandal and heartache.

Dir:  Edmund Goulding Cast:  Greta Garbo , John Barrymore , Joan Crawford .

BW- 113 mins, CC,

9th
10:15 PM

Two buddies take on World War I flying aces and a seductive blonde.

Dir:  Howard Hughes Cast:  Ben Lyon , James Hall , Jean Harlow .

C- 132 mins,

11th
12:15 AM

A World War I veteran faces inhuman conditions when he's sentenced to hard labor.

Dir:  Mervyn Le Roy Cast:  Paul Muni , Glenda Farrell , Helen Vinson .

BW- 93 mins, CC,

12th
10:30 AM

A newspaperman tracks a runaway heiress on a madcap cross-country tour.

Dir:  Frank Capra Cast:  Clark Gable , Claudette Colbert , Walter Connolly .

BW- 105 mins, CC,

13th
8:00 PM

King of Jazz (1930)

Dir:  John Murray Anderson Cast:  Paul Whiteman ,

John Boles ,

Laura La Plante .

BW- 100 mins,

15th
10:00 PM

A small-time hood shoots his way to the top, but how long can he stay there?

Dir:  Mervyn LeRoy Cast:  Edward G. Robinson , Douglas Fairbanks , Glenda Farrell .

BW- 78 mins, CC,

16th
6:30 AM

A British army troop fights off Arab snipers while holed up in an oasis.

Dir:  John Ford Cast:  Victor McLaglen , Boris Karloff , Wallace Ford .

BW- 72 mins, CC,

17th
2:45 AM

Boyhood friends grow up on opposite sides of the law.

Dir:  W. S. Van Dyke Cast:  Clark Gable , William Powell , Myrna Loy .

BW- 90 mins, CC,

17th
10:30 AM

A prince from a small kingdom courts a wealthy widow to keep her money in the country.

Dir:  Ernst Lubitsch Cast:  Maurice Chevalier , Jeanette MacDonald , Edward Everett Horton .

BW- 99 mins, CC,

19th
1:00 PM

A medical student falls prey to a sluttish waitress.

Dir:  John Cromwell Cast:  Leslie Howard , Bette Davis , Frances Dee .

BW- 83 mins, CC,

20th
6:00 AM

An ocean voyage leads to romance for a dying heiress and a condemned criminal.

Dir:  Tay Garnett Cast:  William Powell , Kay Francis , Aline MacMahon .

BW- 67 mins, CC,

20th
7:30 AM

Operator 13 (1934)

An actress signs up to spy for the Union, then falls for a Confederate officer.

Dir:  Richard Boleslavsky Cast:  Marion Davies , Gary Cooper , Jean Parker .

BW- 85 mins, CC,

22nd
4:00 PM

The famed English monarch suffers through five of his six disastrous marriages.

Dir:  Alexander Korda Cast:  Charles Laughton , Merle Oberon , Wendy Barrie .

BW- 94 mins, CC,

22nd
11:45 PM

An Irish-American street punk tries to make it big in the world of organized crime.

Dir:  William A. Wellman Cast:  James Cagney , Jean Harlow , Edward Woods .

BW- 84 mins, CC,

23rd
1:45 PM

True story of the mad monk who plotted to rule Russia.

Dir:  Richard Boleslavsky Cast:  John Barrymore , Ethel Barrymore , Lionel Barrymore .

BW- 121 mins, CC,

24th
3:30 AM

An opera singer leaves her wealthy lover for a young priest.

Dir:  Clarence Brown Cast:  Greta Garbo , Lewis Stone , Gavin Gordon .

BW- 76 mins, CC,

25th
8:00 AM

A saloon singer fights off smugglers, an escaped con and a Salvation Army officer out to reform her.

Dir:  Lowell Sherman Cast:  Mae West , Cary Grant , Owen Moore .

BW- 65 mins, CC,

25th
8:00 PM

A misfired flirtation lands a young lieutenant married to a princess instead of the one he loves.

Dir:  Ernst Lubitsch Cast:  Maurice Chevalier , Claudette Colbert , Miriam Hopkins .

BW- 89 mins, CC,

27th
1:45 AM

An old man who witnessed a crime is threatened by gangsters.

Dir:  William A. Wellman Cast:  Walter Huston , Frances Starr , Grant Mitchell .

BW- 68 mins, CC,

28th
11:30 PM

A husband-and-wife detective team takes on the search for a missing inventor and almost get killed for their efforts.

Dir:  W. S. Van Dyke Cast:  William Powell , Myrna Loy , Maureen O'Sullivan .

BW- 91 mins, CC,
Questions? Comments? Or do you just want to bug me? Leave a comment below!