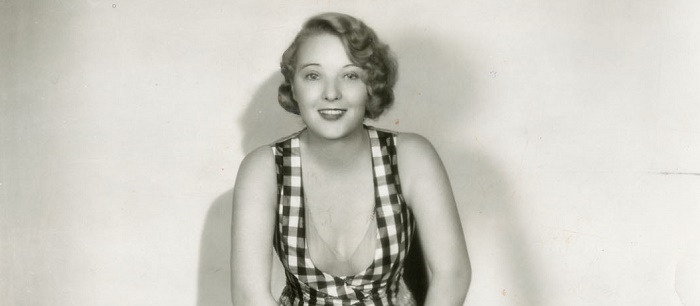 Born on March 3, 1903, Dorothy Mackaill was a small girl in Hull, England, whose dancing prowess soon made her famous around the world. She danced in Paris and was spotted by Florence Ziegfeld, who made her one of his popular chorus girls. She moved into silent pictures in the early 1920s and starred alongside people like Louise Brooks, John Barrymore, and Richard Barthelmess.
Still a star when talkies entered the scene and her English accent having vanished over the years, Mackaill made the transition seamlessly. Unfortunately, the studio she worked for, First National, did not; they were bought out by Warner Brothers in the early 30s and Warners sacked many of the studio's stars. Mackaill made one truly great sound film for them before being let go– the starring part in William Wellman's harrowing Safe in Hell— before spending the rest of her pre-Code career drifting between other studios.
Starting in 1934, Mackaill moved to Hawaii, and spent most of the rest of her life in a hotel on Waikiki Beach. She had a handful of credits left– a Bulldog Drummond film shot in England in 1937, a small role in a television production in the 50s, and a pair of appearances on the original "Hawaii Five-O"– but had invested her movie earnings in Los Angeles real estate and lived well from it. She spent her retirement taking care of her mother, playing gin rummy, and suntanning. She died of kidney failure in 1990, and her ashes were spread off Waikiki. We should all be so lucky.
Dorothy Mackaill's Pre-Code Filmography
Strictly Modern (1930)
The Flirting Widow (1930)
The Office Wife (1930)
Man Trouble (1930)
Bright Lights (1930)
Once a Sinner (1931)
Kept Husbands (1931)
Party Husband (1931)
Their Mad Moment (1931)
Love Affair (1932)
Neighbors' Wives (1933)
Curtain at Eight (1933)
The Chief (1933)
Picture Brides (1933)
Cheaters (1934)
Studios
Dorothy Mackaill Sites and Links
Other Actresses