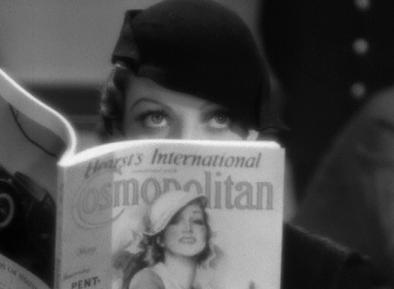 Midnight Mary (1933) Review
The woman is reading the newest issue of "Cosmopolitan." She doesn't find it very interesting. But more interesting, at least, than her murder trial going on before her.
Things are going bad for Mary Martin, but she's beyond caring. She lost the man of her dreams, and she's already been to prison once. A nice prison bookkeeper agrees to hear out her story while she awaits the jury's pledged quick turnaround time.
The movie is told in flashback, and Mary's history is laid bare (Hint: you don't get the nickname "Midnight" for good behavior). This begins on a goofy note as they have the fully grown Loretta Young play the character at age eight, in poverty. The movie wisely doesn't dwell on this goofy visual too long, luckily, and we fly through the years of her life; sent to corrections for a crime she didn't commit, and upon leaving finds that sleeping with men for money is darn convenient.
She's not happy with this turn of events as much as her friend Bunny is, but Mary soldiers on. And while prostitution is always the first and last resort for female employment in the Pre-Code era, Mary meets some guys who offer the opportunity for a career change by way of a casino heist.
Things seem to be going pretty swell for a little bit, even if her new man, Leo, tosses lines at her like, "You can walk out on me any time you want to, I won't chase after you. But you'll always come back." The robbery  a casino goes bad with the usual trouble of a cop murder, and Mary only escapes by playing dumb as the arm candy of a late arriving playboy lawyer.
He's instantly smitten, and she's instantly stymied; she's definitely not what she would consider his type. But when men get ideas about women into their heads it's awful hard to get them back out. Mannerling brings her home to an empty luxurious apartment and begins talking her up about her life, from the details that she carefully avoids to the less subtle bits. Mannerling chatters on, testing the boundaries of what he can glean from her, and catches himself when he begins to talk about intimacy. "What do you suppose made me think of sex?"
"I don't know," Mary replies with a smile, "Most men never do."
With the robbery going south, Mary needs  a way out of trouble. Mannerling makes Mary an offer; a secretarial job at his law firm. Thrilled, wowed, and altogether squishy, Mary accepts.
Soon there's an arrest, a murder, a marriage, you know the drill. Midnight Mary is surprisingly progressive for it's time, as a rich man happily takes a "dishonored" woman and she stands up for herself. In fact, in a number of other Pre-Code movies, a lot of Mary's traits would seem to come straight from the male side. Opportunistic, flirtatious, true, but she's also shy and mysterious, a woman who emerges from the filth she was raised with rather than leaving it to wallow within.
With style and panache, William Wellman does Mary's story justice. While it might not have the gut punch social issues that his other films of the time were exploring, Midnight Mary remains today both daring and enjoyable. In fact, I'd even put down the "Cosmo" for it.

Midnight Mary (1933)
This film is available in the third Forbidden Hollywood set.
Directed by William A. Wellman
Starring Loretta Young