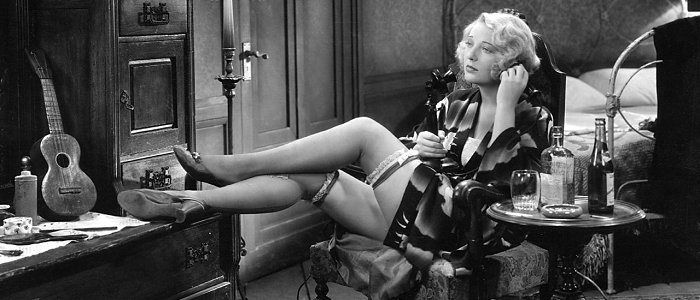 Pre-Code.Com Site News for September 2014
Pre-Code fans, maniacs, and nerds, if you have Turner Classic Movies, this is your month. The channel is dedicating four full 24-hour days to showing nothing but pre-Code films. On top of that, there are still scattered showings throughout as well. They've got tons of movies, from obscure wonders like Story of Temple Drake and Call Her Savage to the 'we show it every month anyway' things like The Public Enemy and She Done Him Wrong. As it is, I've covered a surprisingly large chunk of what's being shown, so feel free to drop by a review below and enjoy.
I skipped doing the GetTV schedule this month since the only real pre-Code they were showing (i.e. the only non-Tim Holt Western) was a handful of showings of Ann Carver's Profession. Which, you know, you can also catch on TCM this month, too.
Site's been having problems with dropping posts at the scheduled times again. I think this is a thing I just have to wait out, so sorry if my stuff appears later than usual.
I've already received my first entry for The Thin Man book project, and I look forward to more! There should be at least two updates about it this month, so keep your eyes peeled!
Upcoming Reviews in September
9/5 – Sky Devils [World War I Blogathon]
9/8 – Pre-Code Retro – Thou Shalt Not
9/12- Age of Consent
9/15- Blonde Venus
9/19- I'm No Angel
9/22- Penthouse
9/26- The Reckless Hour
9/29- [Oct Schedule]
Pre-Code Hollywood Movies on TCM in September
Please note: All times are Eastern. This schedule is subject to change. See the full listings here. To watch TCM online, check out their TCM Watch site.

Date & Time


Film

9/3, 4:00 AM
Street Scene (1931)
A husband's violent reaction becomes the talk of the neighborhood when he catches his cheating wife in the act. With Sylvia Sydney.
9/5, 6:00 AM
The Big Shakedown (1934)
A racketeer breaks into black-market medicine. With Bette Davis.
9/5, 7:15 AM
Parachute Jumper (1933)
A gangster victimizes three friends trying to get jobs. With Douglas Fairbanks Jr and Bette Davis.
9/5, 8:30 AM
Ex-Lady (1933)
A female artist is torn between her belief in free love and the constraints of romance. (This is a remake of Illicit, which airs later in the day!) With Bette Davis.
9/5, 9:45 AM
Virtue (1932)
A taxi driver falls for a sassy New York con girl. With Carole Lombard and Pat O'Brien.
9/5, 11:00 AM
Wild Boys of the Road (1933)
An impoverished girl masquerades as a boy to run with a gang of young hobos.
9/5, 12:15 PM
Safe in Hell (1931)
On the run from the police, a New Orleans prostitute gets stranded in a tropical haven for outlaws. A masterpiece!
9/5, 1:30 PM
Frisco Jenny (1933)
A district attorney prosecutes his own mother for murder. With Ruth Chatterton.
9/5, 2:45 PM
Female (1933)
A female CEO who's used to buying love meets her match in an independent young executive.
9/5, 4:00 PM
Illicit (1931)
Young free-thinkers turn conventionally jealous when they marry. With Barbara Stanwyck and Joan Blondell.
9/5, 5:30 PM
Night Nurse (1931)
A nurse discovers that the children she's caring for are murder targets. With Barbara Stanwyck, Joan Blondell, and Clark Gable.
9/5, 6:45 PM
Thou Shalt Not: Sex, Sin and Censorship in Pre-Code Hollywood (2008)
Good introductory documentary on pre-Code cinema.
9/5, 8:00 PM
Baby Face (1933)
A beautiful schemer sleeps her way to the top of a banking empire. A must-see if you haven't! With Barbara Stanwyck.
9/5, 9:30 PM
The Divorcee (1930)
The double standard destroys a liberal couple's marriage. With Norma Shearer.
9/5, 11:00 PM
Footlight Parade (1933)
A producer fights labor problems, financiers and his greedy ex-wife to put on a show. Probably the most purely fun of the Busby Berkeley musicals.
9/6, 1:00 AM
Gold Diggers of 1933 (1933)
Three chorus girls fight to keep their show going and find rich husbands. With Warren William and Joan Blondell.
9/6, 2:45 AM
Search for Beauty (1934)
Three con artists dupe two Olympians into serving as editors of a new magazine which is a front for salacious stories and pictures.
9/6, 4:15 AM
Taxi! (1932)
A feisty independent cab driver fights off a crooked syndicate.
 9/7, 6:00 AM
Min and Bill (1930)
Two crusty waterfront characters try to protect their daughter from a terrible secret.
 9/7, 7:15 AM
Tugboat Annie (1930)
A lady tugboat captain tries to help two young lovers come together.
 9/7, 10:30 AM
I'm No Angel (1933)
A carnival dancer evades the law and invades high society.
9/9, 7:45 AM
Silver Dollar (1932)
A farmer strikes it rich out West, then leaves his wife for a young beauty. With Edward G. Robinson. Kicks off a day of Aline MacMahon movies.
 9/9, 9:15 AM
The Mouthpiece (1932)
A crusading DA goes into private practice and succumbs to the temptations of corruption. With Warren William.
 9/9, 10:45 AM
Heat Lightning (1934)
A lady gas station attendant gets mixed up with escaped murderers. With Ann Dvorak.
9/11, 3:15 AM
The Vampire Bat (1933)
Villagers suspect the town simpleton of being a vampire. Pretty much a tossed salad of early 1930s horror.
9/12, 6:00 AM
The Naughty Flirt (1931)
A flighty heiress goes to work as a secretary to win the straitlaced man she loves. With Alice White.
 9/12, 7:00 AM
Ten Cents a Dance (1931)
A taxi dancer with a jealous husband finds herself falling for a wealthy client. With Barbara Stanwyck.
 9/12, 8:30 AM
When Ladies Meet (1933)
A female novelist doesn't realize her new friend is the wife whose husband she's trying to steal. With Robert Montgomery.
9/12, 10:00 AM
Double Harness (1933)
After tricking a playboy into marriage, a woman sets out to win his love honestly.
9/12, 11:15 AM
For the Defense (1930)
An attorney, who specializes in springing criminals out of prison, is faced with a moral dilemma when his girlfriend drunkenly kills a pedestrian with her car and another man takes the blame.
9/12, 12:30 PM
Union Depot (1932)
An out-of-luck con artist discovers a suitcase full of money at a train station.
 9/12, 1:45 PM
Mary Stevens, MD (1933)
A woman doctor decides to have a baby without benefit of marriage.
 9/12, 3:00 PM
Age of Consent (1932)
College co-eds learns to handle the responsibilities of romance.
9/12, 4:45 PM
Bombshell (1933)
A glamorous film star rebels against the studio, her pushy press agent and a family of hangers-on.
 9/12, 6:30 PM
Red Headed Woman (1932)
An ambitious secretary tries to sleep her way into high society.

  9/12, 8:00 PM
Red Dust (1932)
A plantation overseer in Indochina is torn between a married woman and a prostitute.
  9/12, 9:30 PM
Design for Living (1933)
An independent woman can't chose between the two men she loves.
  9/12, 11:15 PM
Trouble in Paradise (1932)
A love triangle ignites trouble between two jewel thieves and their intended victim.
  9/13, 12:45 AM
Dr. Jekyll and Mr. Hyde (1932)
Robert Louis Stevenson's classic tale of a scientist who unleashes the beast within.
  9/13, 2:30 AM
The Story of Temple Drake (1933)
Showing at 2:30 AM because there would be riots if it were shown during prime time.
  9/13, 3:45 AM
Freaks (1932)
A lady trapeze artist violates the code of the side show when she plots to murder her midget husband.
 9/13, 5:00 AM
Jewel Robbery (1932)
It's like Trouble in Paradise but with marijuana and William Powell. No, seriously.
9/14, 12:15 AM
Frisco Jenny (1932)
A district attorney prosecutes his own mother for murder.
9/15, 6:00 AM
The Finger Points (1931)
A naive reporter takes payoffs for keeping a prominent gangster out of the papers.
9/15, 7:30 AM
The Unholy Garden (1931)
A gentleman thief falls for the daughter of the man he's trying to rob.
9/15, 9:00 AM
Ann Carver's Profession (1933)
A female lawyer is torn between her career and her husband's ego.
9/15, 10:15 AM
When a Feller Needs a Friend (1932)
A lame boy's uncle tries to rescue him from his over-protective parents.
9/18, 6:00 AM
Prestige (1932)
A woman joins her fiance at a Malaysian prison camp only to discover he's become an alcoholic.
 9/19, 6:00 AM
Parole Girl (1933)
A wrongly convicted woman tries to make amends after getting out of prison.
 9/19, 7:30 AM
Three Wise Girls (1932)
Three models try to snag husband's but the ones they find are already married.

  9/19, 8:45 AM
Lady Killer (1933)
A criminal on the run becomes a Hollywood movie star.
  9/19, 10:15 AM
Possessed (1931)
A factory girl rises to the top as mistress of a tycoon, then falls in love.
  9/19, 11:45 AM
Two Seconds (1932)
In the last moments of his life, a criminal reviews the circumstances that led him to death row. With Edward G. Robinson.
  9/19, 1:00 PM
The Little Giant (1933)
When Prohibition ends, a bootlegger tries to break into high society. With Edward G. Robinson.
  9/19, 2:30 PM
The Mind Reader (1933)
A fake mentalist tries to go straight, only to end up in jail.
  9/19, 3:45 PM
Beauty and the Boss (1932)
After being distracted by a string of pretty secretaries, a banker hires a plain Jane, only to fall in love with her.
  9/19, 5:00 PM
Waterloo Bridge (1931)
A ballerina sinks into prostitution when her husband is reported killed in World War I.
 9/19, 6:30 PM
Hot Saturday (1932)
A virtuous small-town clerk becomes the victim of a scandalous rumor from an unsuccessful suitor.
 9/19, 8:00 PM
Blonde Venus (1932)
A nightclub singer gives in to a rich playboy to finance her husband's medical treatment.
 9/19, 9:45 PM
I'm No Angel (1933)
A carnival dancer evades the law and invades high society.
 9/19, 11:30 PM
She Done Him Wrong (1933)
A saloon singer fights off smugglers, an escaped con and a Salvation Army officer out to reform her.
 9/20,12:45 AM
Blonde Crazy (1931)
A con-man bellhop and his chambermaid girlfriend set out to fleece hotel guests.
  9/20, 2:15 AM
Thou Shalt Not: Sex, Sin and Censorship in Pre-Code Hollywood (2008)
This documentary looks at how the social, financial and moral forces all helped shape one of the most intriguing periods in Hollywood history.
  9/20, 3:30 AM
Skyscraper Souls (1932)
A ruthless financier will stop at nothing to control a 100-story office building.
  9/20, 5:15 AM
She Had to Say Yes (1933)
A secretary pads her salary by dating prospective buyers for her company.
9/21, 12:00 AM
Five Star Final (1931)
An unscrupulous newspaper editor searches for headlines at any cost. With Edward G. Robinson.
 9/21, 10:30 AM
Trouble in Paradise (1932)
A love triangle ignites trouble between two jewel theives and their intended victim.
 9/22, 7:45 AM
The Office Wife (1930)
A gold-digging secretary sets out to lure her boss from his straying wife.
9/22, 8:45 AM
One Sunday Afternoon (1933)
A small-town dentist longs to avenge an old friend who stole his love, but discovers there's no need.
9/23, 6:30 AM
The Chief (1933)
A fireman's son goes into politics.
9/26, 6:00 AM
A Free Soul (1931)
A hard-drinking lawyer's daughter falls for one of his underworld clients.
 9/26, 8:00 AM
Downstairs (1932)
An evil chauffeur seduces and blackmails his way through high society.
 9/26, 9:30 AM
Ladies They Talk About (1933)
A lady bank robber becomes the cell block boss after she's sent to prison.
 9/26, 10:45 AM
Loose Ankles (1930)
A young woman will inherit a million dollars if she marries well.
 9/26, 12:00 PM
They Call It Sin (1932)
An innocent young chorus girl fights the advances of her lecherous producer.
 9/26, 1:15 PM
Heroes for Sale (1933)
A veteran fights drug addiction to make his way in the business world.
 9/26, 2:30 PM
Employee's Entrance (1933)
An unscrupulous department store manager stops at nothing to get what he wants.

  9/26, 4:00 PM
Midnight Mary (1933)
An abused orphan sinks into a life of crime.
  9/26, 5:15 PM
Other Men's Women (1931)
A railroad engineer falls for a co-worker's wife.
  9/26, 6:30 PM
The Public Enemy (1931)
An Irish-American street punk tries to make it big in the world of organized crime.
 9/26, 8:00 PM
Scarface (1932)
A murderous thug shoots his way to the top of the mobs while trying to protect his sister from the criminal life.
9/26, 9:45 PM
Little Caesar (1930)
A small-time hood shoots his way to the top, but how long can he stay there?
  9/26, 11:15 PM
Penthouse (1933)
The mob frames a lawyer for murder, so he enlists a call girl's help in finding the real killer.

 9/27, 1:00 AM
Three On A Match (1932)
A woman's childhood friends try to rescue her from gangsters.
9/27, 2:15 AM
Call Her Savage (1932)
A Texas gal storms her way through life, brawling and boozing until her luck runs out, forcing her to learn the errors of her ways.
9/27, 3:45 AM
The Hatchet Man (1932)
When he's forced to kill his best friend, a Chinese hitman adopts the man's daughter.

9/27, 5:00 AM
State's Attorney (1932)
A district attorney's arrogance almost costs him his career.
9/28, 6:00 PM
It Happened One Night (1934)
You should know this one by now.
9/29, 6:30 AM
Life of the Party (1930)
Two gold-digging shop girls use their jobs to hunt down sugar daddies.
9/29, 8:15 AM
Three Faces East (1930)
During World War I, a female agent tries to unmask a German spy.
9/29, 9:30 AM
My Past (1931)
A stage star finds herself torn between a wealthy older man and a handsome younger one.
 9/29, 12:15 PM
Road to Paradise (1930)
A delinquent girl helps a criminal gang rob her look-alike.
 9/29, 1:45 PM
Penrod and Sam (1931)
Booth Tarkington's tale of two mischievous boys in turn-of-the-century Indiana.
Questions? Comments? Or do you just want to bug me? Leave a comment below!